Make way for Robert McCloskey: this week, the centennial of the author of Make Way For Ducklings is being celebrated with a series of lectures by scholar and raconteur Leonard S. Marcus.
By Debra Cash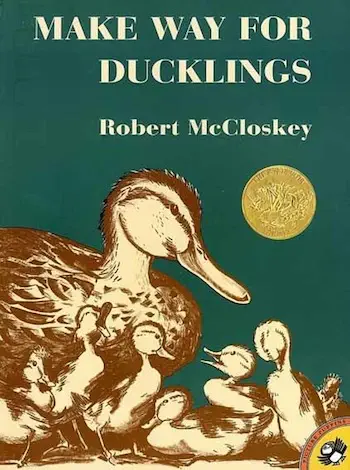 The Boston Public Garden would never have been the same without Robert McCloskey, the crusty Maine-and-New York illustrator and children's book author who gave us Make Way for Ducklings.
The sculpture that Nancy Schon created based on McCloskey's illustration of the Mallard Family — Mr. and Mrs., plus their children, Jack, Kack, Lack, Mack, Nack, Ouack, Pack, and Quack — is a perennial tourist draw (and has even experienced the indignities of dastardly theft). Schoolchildren from Canton successfully petitioned the state legislature to make Make Way for Ducklings the official children's book of Massachusetts, although that honor was not bestowed without a fight: the good legislators of Springfield who were holding out for their native son, Theodor Geisel aka Dr. Seuss. (In a sign that even a bitter division like this one can end in electoral harmony, our public servants split the difference, declaring Dr. Seuss the official children's author and Make Way for Ducklings the official children's book.)
This week, the centennial of McCloskey's birth is being celebrated with a series of lectures by scholar and raconteur Leonard S. Marcus at the Norman Rockwell Museum and the Cambridge Public Library.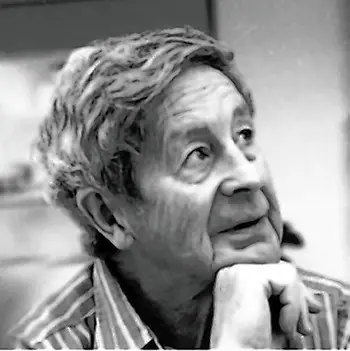 Marcus admits he wasn't familiar with McCloskey's books as a child, but by the time Marcus was in his 20s, McCloskey loomed large as one of the most important illustrators America had ever produced. They met at the Boston Atheaneum during a daylong program devoted to childrens' books. McCloskey was in mourning for his wife Peggy, but Marcus, who was a regular children's book reviewer for Parenting Magazine, arranged to conduct a substantive interview. That session would later be expanded and collected in Marcus' Ways Of Telling: Conversations On The Art Of The Picture Book.
"He hadn't published a book in many years, and some people were surprised to know he was still alive," Marcus recalled in a recent phone call. "His last book had been published in 1963."
During the interview, McCloskey shared a nightmare. He was in a room filled with copies of Make Way for Ducklings. One of the eyes in one of the ducks on one of the pages was slightly out of place. It was like a drippy faucet, he told Marcus. It was driving him crazy.
McCloskey's perfectionism may have ruined his sleep, but has endeared him to generations. Originally hoping to find work as a painter and muralist, he was a contemporary of the Depression era artists of the WPA and, Marcus explains, was aware of Thomas Hart Benton and the search to find American subject matter worthy of artistic expression. Interestingly enough, in 1939 McCloskey collaborated with Francis Scott Bradford on a series of six murals now housed in the Sloan Building (E52) at MIT. "If you think about his picture books, " Marcus explains, "he has the muralist's sense of scope. He was thinking large."
Location, location, location. Make Way for Ducklings, McCloskey's second book and first Caldecott Medal winner, is the tale of a Mr. and Mrs. Mallard who, looking for a place to raise their family, settle along the Charles River. The duck family finds a protector in a doughy policeman named Michael, who orchestrates a police escort that allows them to pass safely to the Boston Public Garden, an act for which he has been commemorated in Boston's annual Mother's Day Ducklings Day Parade, led by the Harvard Marching Band. I don't know about you, but I can never see cars stopping for a flock of oblivious Canada geese — or even wild turkeys — without thinking about Officer Michael.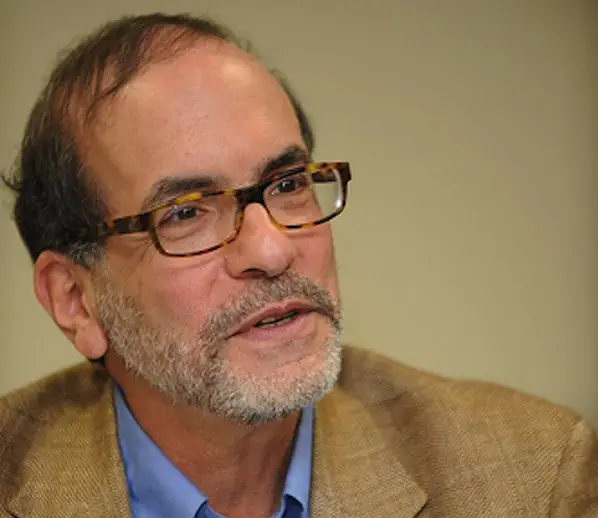 While McCloskey really did spend time in Boston feeding the ducks in the Public Garden while he was an art student, the ducklings were actually New York ducks. He got half a dozen and let them live in his West Village studio. He did something similar with the bears in the Maine-themed Blueberries for Sal: the bears he drew were based on the caged animals in the Central Park Zoo. Marcus says that McCloskey would have considered this "a kind of midwestern 'aren't I a little naughty' bait and switch. A word that he loved was know-how. Drawing this way gave him the flexibility that allowed him to pull from many sources to get what he wanted."
In a book written for older readers, Homer Price, McCloskey tells a story about a town which starts to build small, nondescript sort of suburban houses. "It's runaway development without a plan and that is the kind of thing that really bothered him. He believed that people should think about planning, think before acting, that they should think about the natural world and the impact that humans have on it." A longtime summer resident of Scott Island off Little Deer Isle in Maine, he became an ardent conservationist.
Marcus thinks that McCloskey would have brought Homer Price's fascination with useful tools to the current debates about what happens when small children are first exposed to reading on tablets and e-readers. No technophobe, late in life McCloskey spent time exploring how the new home computers might help children with learning disabilities. Yet Marcus has a caveat for anyone who would introduce a book like Make Way for Ducklings to their kids on an ipad instead of a physical book:
One thing I can say is that McCloskey's books were meant to be large format, so people who encounter his books on an ipad, much less a phone, don't have the advantage of the experience he intended them to have. A physical book is better suited to the kind of sensory learning that very small children are known to engage in through the day, touching things, smelling things. You know, [Where the Wild Things Are artist] Maurice Sendak's first memory of a book was the smell of the binding.
************
Leonard S. Marcus will speak today at the Norman Rockwell Museum in Stockbridge, MA and September 15 at the Main Branch of the Cambridge Public Library.
---
Debra Cash has reported, taught and lectured on dance, performing arts, design and cultural policy for print, broadcast and internet media. She regularly presents pre-concert talks, writes program notes and moderates events sponsored by World Music/CRASHarts and cultural venues throughout New England. A former Boston Globe and WBUR dance critic, she is a two-time winner of the Creative Arts Award for poetry from the Hadassah-Brandeis Institute and will return to the 2014 Bates Dance Festival as Scholar in Residence.
c 2014 Debra Cash