By Robert Israel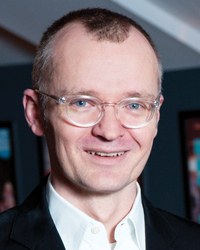 One of the cardinal rules in journalism is to always spell a person's name correctly. No such rules apply, evidently, to pronouncing an award recipient's name correctly. An excruciating display of the mumbles was on display at the Tony Awards on Sunday, June 8 when veteran film star and director Clint Eastwood stood in front of a televised audience of millions and a live audience (at Radio City Music Hall in New York) and massacred one of the nominees' name.
The subject of his knotted tongue was Darko Tresnjak, artistic director of the Hartford Stage, who was later called to the dais to accept the award of Best Direction of a musical for his work in A Gentleman's Guide to Love and Murder. The show, which premiered in Hartford before traveling to Broadway, garnered three other awards: Best Musical, Best Book of a Musical (for Robert L. Freedman) and Best Costume Design (for Linda Cho).
"Darko Tesnajeek," Eastwood mumbled. A sound of audible derision came from the audience.
When it came time for the envelope to be opened, Eastwood got smart.
"And the award goes to…Darko," he said, looking a bit like the Cheshire Cat, purposefully omitting the director's last name.
For his part, Tresnjak took the high road.
"I like to thank my artistic home, Hartford Stage," Tresnjak said, and then he went onto thank his husband, Josh, the cast, crew and writers, and his 87 year-old mother, who, he said, was once a skydiver during World War II.
Tresnjak has been a rising star in the world of theater for several years. He is well known to Boston audiences from his work as Director-in-Residence with the Huntington Theatre Company. Most recently, he was the directorial force behind a moving production of Shakespeare's Merchant of Venice, which appeared onstage at Emerson's Cutler Majestic Theater three years ago.
When I interviewed Tesnjak in advance of that touring production — which featured noted stage and film actor F. Murray Abraham in the role of Shylock — he talked about the virulent anti-Semitism he found within the text and how that affected him, having spent his early years in his native Yugoslavia (now Serbia).
"Shakespeare wrote about extreme cruelty in Merchant," Tresnjak said. ""Take for example the line that Gratiano speaks in the play, 'Now, by my hood, a Gentile not a Jew.' He is talking about his foreskin, and it's an example of the cruel humor that runs throughout the play."
During the production he went even further to show cruelty by positioning actor Abraham flat on his stomach onstage, arms raised and flailing to avoid the blows and kicks administered by the hoard of other actors who also spat upon him, assailing him with taunts, "Jew! Dirty Jew!" – words that never never appeared in Shakespeare's original 1596 text.
Tresnjak kept his keen eye on other elements in the production, especially the American economy, which he considers to be driven by greed, and whose materialism contributes mightily to cruelty and ethnic hatreds.
"I have to say that the collapse of the economy rekindled my interest in the play," Tresnjak told me. "I saw it as a very contemporary play. And when Theatre for a New Audience opened the play, we performed it in a theatre downtown, right near Wall Street. I told the actors to walk around the neighborhood before curtain and to absorb the atmosphere of greed."
The accolades bestowed upon A Gentleman's Guide to Love and Murder, as evidenced by the four Tony Awards, will, no doubt, assure Tresnjak's future on Broadway, one he richly deserves.