By Timothy Francis Barry
Can somebody tell me, tell me please, why there's suddenly such a profusion, a torrent — almost a glut — of significant art history books entering the marketplace right about now?
Is it a byproduct of the stay-at-home, let's-read-books-cuz-we've-done-enough Netflix thing?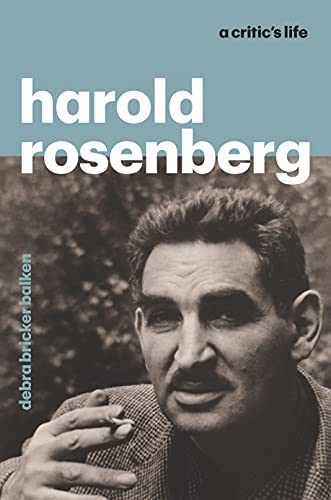 To wit: esteemed art historian Debra Bricker Balken's comprehensive Harold Rosenberg: A Critic's Life (University of Chicago Press, 2021) and Myself and My Aims: Writings On Art and Art Criticism, by Kurt Schwitters, ed. Megan R. Luke (University of Chicago Press, 2021). There's the luscious coffee-table-size tome Keith Haring | Jean-Michel Basquiat: Crossing Lines (Princeton University Press, 2022), which was a mild disappointment — more on that anon. An outlier, George Rickey: A Life in Balance (Godine, 2021), proved to be the pick of the litter.
So, art books. What are they for? In this day of myriad entertainment choices — streaming this and downloading that, all the podcast yadda yadda — could it be that we yearn to return to the simple pleasure of leafing through a nice illustrated book? Reading an essay or two if it catches our eye?
Keith Haring | Jean-Michel Basquiat features almost an embarrassment of written riches. Artist Jenny Holzer supplies an appreciation. Other contributors include George Condo, former Boston-based art-punk rocker with the '80s group The Girls, now a blue-chip painter in New York; '80s downtown NY curator Diego Cortez; and Linda Yablonsky, bohemian New York scribbler, eyewitness to the scene's bad behavior.
Still, somehow the volume's parts don't add up to a winning whole, at least to this reader. The illustrations are top-notch but the essays are … okay (the already-converted preaching to the easily accommodated). No previously unseen Rene Ricard piece here, just the oft-reprinted 1981 Artforum article in which Ricard (born Albert Ricard, 1946-2014, New Bedford, MA) brought Basquiat to the notice of art world moneymen. But yes, good to see it here. (Autodidact poet-critic Ricard also scribed career-making pieces about others, including painters Julian Schnabel and Brice Marden.)
Scenester Yablonsky's at-the-jump oral history of the Club 57 scene is a blow-by-blow report of what the artists wore, what they said, and what they drew on the walls. And, sure, it's awfully fun to hear about Jean-Michel and Keith (who knew they were best buddies?). At one point, Jean-Michel is stoked to sell five drawings to (legendary curator) Jeffrey Deitch for $50 each. Deitch still has them.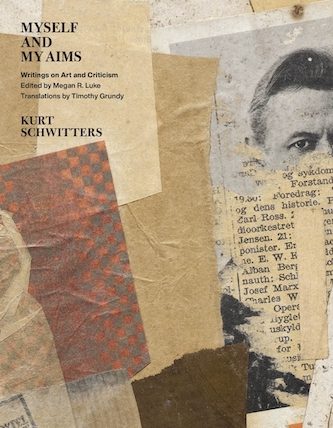 Kurt Schwitters (1887-1948) is a well-known name in the area of early 20th-century collage, though it must be admitted that his contributions to Dada art and its development are somewhat overshadowed by Marcel Duchamp, Tristan Tzara, Man Ray, and Francis Picabia. This anthology of his compelling writings goes a long way toward encouraging a reexamination of the German artist's contributions to the inroads and sea-changes in art-making.
One really interesting aspect of this well-researched book is editor Luke's highlighting of Schwitters' in-your-face Dada aesthetic: "A Dadaist is someone who gets up onstage (seats including coat check and luxury tax cost 10 mark 65) and places a chamber pot on his head and toilet paper in his buttonhole while stammering man–bottle–table drawer–stupid–dada–dada, and so it's a Dadaist-intellectual imposter…."
Balken's Harold Rosenberg, a 656 page biography, is in places a bit of a slog. Rosenberg (1906-1978) was an art world big deal (as big name journalists go) — back in the '60s, that is. He and his backbiting rivalry with his arch-nemesis, the critic Clement Greenberg, have been extensively (some might feel overly so) chronicled. That point brings an uncomfortable if elemental question to the front: of what value to culture are critics?
I'll leave that to others to ponder. Suffice it to say that this is a deep-dig — if somewhat turgidly written — work of scholarship. Few who have written on Rosenberg can claim to have gone further into the weeds than Balken. Is it a must read? Art history professionals will raise a glass; for the rest of us, only a maybe.
In contrast, Belinda Rathbone's George Rickey: A Life In Balance has everything a biography should have: up-close-and-personal first-person accounts of the day-to-day life of an artist. Of course, you may well ask "George who?" and it would be a valid question. Rickey (1907-2002) may be little remembered now, but in his day he was at the cutting edge of the global sculpture field.
Rickey was an early pioneer of moving metal sculptures, often, but not limited to, large outdoor pieces. Akin aesthetically to his upstate neighbor, the metal sculptor David Smith, he was sometimes critically derided as an Alexander Calder copycat. Throughout his career, Rickey never stopped quietly innovating  — he paid little mind to the naysayers.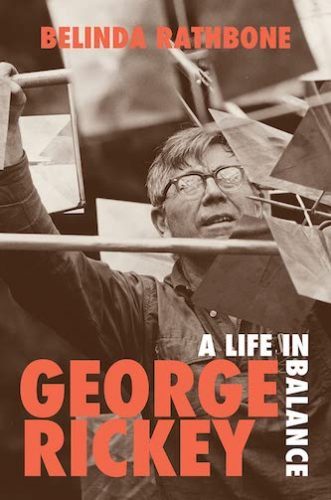 Rickey was at the forefront of the Documenta 1966 world avant-garde art fair, as celebrated a figure as Andy Warhol. He had a studio in upstate New York that drew curators like the Museum of Modern Art's Alfred Barr Jr., who presciently acquired a sculpture that graced the MOMA courtyard soon after. We follow his trajectory from WPA muralist, decorating rural post offices in the Midwest, to teaching and influencing a generation of artists. We see him at work and at shows of his pieces in New York, California, and Berlin.
But what makes this such an engaging and page-turning portrait is this: its behind-the shades peek into the personal lives of the artist and his imperious and mercurial wife Edie as we follow their peripatetic itineraries. Also, descriptions of his largesse to emerging artists and art-world personalities makes for intriguing reading. One interesting note: Rickey offered to support the bright young art historian Debra Balken (future Harold Rosenberg biographer) when she was fired as the curator of the Pittsfield Museum.
Rathbone, daughter of Perry T. Rathbone, longtime director of the Boston Museum of Fine Arts (from 1955 until 1972), has made very good use of her status as something of an art world insider, using her connections to open up illuminating avenues of research. She knows where the bodies are buried, and is not shy about sharing the locations with the reader.
---
Tim Francis Barry studied English literature at Framingham State College and art history at the University of Massachusetts-Dartmouth. He has written for Take-It Magazine, New Musical Express, the Noise, Brooklyn Rail, and the Boston Globe. He owns Tim's Used Books and TB Projects, a contemporary art space, both in Provincetown.