By Jonathan Blumhofer
Here are a handful of concerts that stand out from the past several months, as well as my favorite albums of 2021 — apparently even a global pandemic can't stop the surprisingly resilient classical music recording industry.
Thanks to the quirky nature of Boston's classical music scene, it took a bit longer for the live-performance ball to get rolling here than in, say, New York or Chicago. Be that as it may, from the summer on, local ensembles have returned to action playing with a discernible sense of purpose. Audiences, too, have seemed conspicuously invested: more attentive, less cough-prone, and more vigorous in their responses than usual. Whether this all will hold is an open question, but it's made for an enlivening and memorable autumn.
Below are a handful of concerts that stand out from the past several months, as well as my favorite albums of 2021 – apparently even a global pandemic can't stop the surprisingly resilient classical music recording industry. As always (though maybe a bit more this year), it's an incomplete and imperfectly balanced summary, so feel free to add your own highlights and reminiscences in the Comments section.
---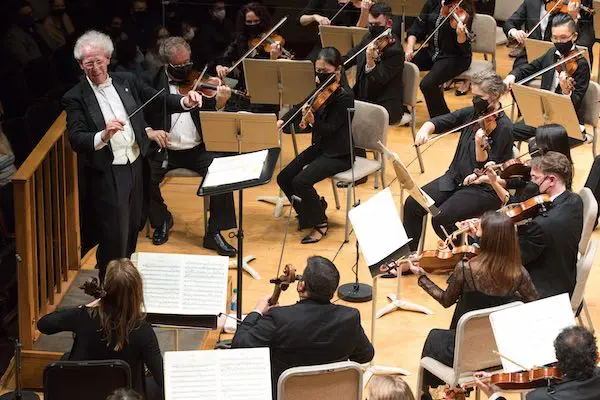 Performance of the Year
For the last couple of seasons, the Boston Philharmonic Orchestra has been the most consistent orchestra in town. Pretty much every concert they play is imbued with an excitement, drive, sense of discovery, and joy of sharing that is rare among orchestras, period, but especially professional outfits. While the shuttering of the Philharmonic for more than a year in, essentially, its glorious prime doesn't rate with the countless human tragedies of this pandemic, it certainly ranks among the great local artistic losses of the last 21 months.
So how wonderful it was to have the BPO return to action with Anton Bruckner's mammoth Eighth Symphony in October. This is a daunting piece in just about every way. But in conductor Benjamin Zander's hands it all made astonishingly lucid sense: the 80-minute-long score may scale Alpine heights, but underneath it all beats a benevolent, approachable, profoundly human heart. Full review here.
Best Orchestral Performance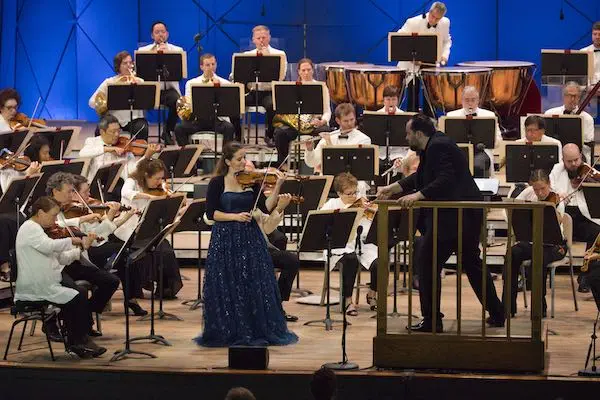 The first live concert I attended since February 2020 was at Tanglewood this July, where the acoustics are rarely ideal but the outdoor setting can hardly be bettered. This time it was cloudy. And it rained. And we were sitting out on the lawn.
Nobody cared.
To hear Andris Nelsons and the Boston Symphony make vital work (even through speakers!) of Antonin Dvorak's sunny Sixth Symphony and to catch Baiba Skride's full-throated reading of the Sibelius Violin Concerto — especially in this context — was unforgettable. What's more, the BSO sounded like they'd been playing together forever: COVID be damned. Full review here.
Best Opera Performance
There haven't been an abundance of local operatic productions as yet (and I wasn't able to catch BLO's Cavalleria rusticana). But Enigma Chamber Opera offered something quite captivating in October: a thoughtful staging of Benjamin Britten's Curlew River. A meditation on loss, forgiveness, and community, its themes are both timeless and conspicuously timely. Full review here.
Most Creative Program
While there have been some exceptions, most orchestras have returned to the concert hall with canonic fare. Even so, there have been some interesting pairings — the Boston Symphony's Still-Strauss-Sibelius triple-bill in October stands out, as does the ever-intrepid New England Philharmonic's "Dreams of Love and War" from earlier in December.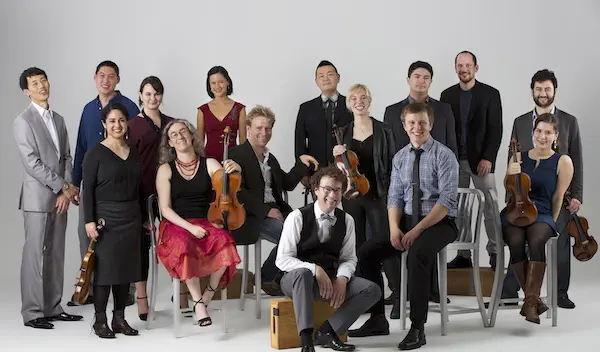 My favorite offering from the fall was A Far Cry's "Emergence," which included a bracing string-orchestra arrangement of Benjamin Britten's String Quartet no. 1. Also on the docket were Leoš Janáček early Suite for Strings and — a bona fide revelation — Lei Liang's diaphanous Verge. Full review here.
Best Premiere
I'm no blind fan of John Williams's concert music; as you can see in a note in the link below, I think it's often lacking melodically, structurally, expressively. Yet I was taken by his Violin Concerto no. 2, which Anne-Sophie Mutter and the Boston Symphony premiered (with the composer conducting) this summer at Tanglewood. Yes, it had its longueurs. The first movement was often discursive. But much of the rest of it warranted a second (or, maybe, third) hearing. Full review here.
Top Recordings of 2021 (in chronological order by review)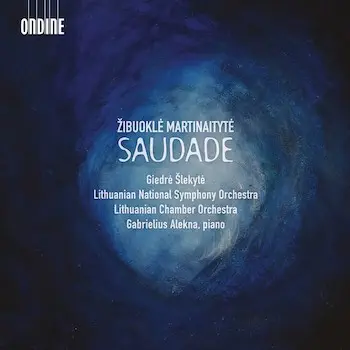 Saudade (Ondine) – This bracing CD of orchestral music by Žibuoklė Martinaitytė set a high bar for the rest of the year's albums: fresh, confident, filled with inventive twists and turns, not to mention performances.
Beethoven & Brahms, Violin Concertos (Canary Classics) – Gil Shaham played the daylights out of these favorites in a dazzling collaboration with The Knights. His first recording of the Beethoven and just his second of the Brahms, the release was a reminder, I said, of the "value of artists committing these well-recorded warhorses to disc only when they've actually got something to say about them, rather than just for the hell of it." So it does.
Paris (Deutsche Grammophon) – Speaking of violinists who consistently fulfill that maxim, Hilary Hahn returned with this sumptuous, soaring album that pairs pieces by Chausson, Prokofiev, and Einojuhani Rautavaara.
Ligeti, Études (Hyperion) – Danny Driver delivered extraordinary performances here of György Ligeti's three books of daunting piano Études: at once distinguished and distinctive.
Vaughan Williams, Symphonies nos. 4 & 6 (LSO Live) – These shattering performances — one of them taped just before the first lockdowns in England last year — of two of Vaughan Williams's greatest symphonies fully capture the intensity of the music and the visceral energy of the London Symphony playing with uncommon purpose.
Roots (Decca) – Itzhak Perlman protégé Randall Goosby has it all: flawless technique, singing tone, a terrific ear for programming. His debut album is, if not the year's best, certainly in the top two.
One Movement Symphonies (Reference Recordings) – Michael Stern and the Kansas City Symphony's survey of single-movement symphonies was thrillingly played and, as a result, wholly invigorating.
Strauss, Ein Heldenleben (Warner Classics) – Richard Strauss's egocentric tone poem has rarely sounded more three-dimensional and humane than in the hands of Antonio Pappano and his Santa Cecilia Orchestra. Taken with Bertrand Chamayou's superb traversal of that same composer's Burleske, it all makes for a near-flawless all-Strauss release.
Trios from The City of Big Shoulders (Cedille) – Piano trios by Ernst Bacon and Leo Sowerby might not be at the heart of the repertoire, but maybe they should be — especially when they're played as grippingly as by the Lincoln Trio here.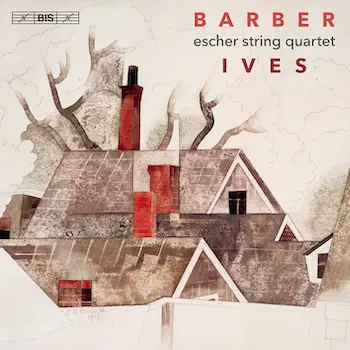 Barber & Ives String Quartets (Bis) – In an altogether strong year for recordings of American chamber music, the Escher String Quartet's accounts of pieces by Samuel Barber and Charles Ives stood out, both for the intelligence of the selections and the brilliance of the group's playing. 
Americascapes (Ondine) – This was, simply, a terrific release: obscure orchestral music by Charles Loeffler, Carl Ruggles, Howard Hanson, and Henry Cowell played to the hilt by the Basque National Orchestra and Robert Trevino. More — much more — of this, please.
Resonance Lines (Sono Luminus) – Hannah Collins's survey of solo cello music of the last half-century (mostly), all of it beautifully essayed.
Brahms & MacMillan, Orchestral Works (Reference Recordings) – Manfred Honeck and the Pittsburgh Symphony rarely go wrong, even in the most familiar fare, as this album that combines a surging Brahms Fourth Symphony with James MacMillan's touching Larghetto attests.
Mendelssohn & Hensel, String Quartets (Hyperion) – Fanny Mendelssohn Hensel shares the stage with her brother, Felix, in this Takács Quartet release. And guess what? She more than holds her own with him.
Of All Joys (Sony Classical) – The Attacca Quartet's bittersweet pairing of 20th-century string quartets by Arvo Pärt and Philip Glass with arrangements of 16th-century songs and instrumental pieces crafts, in its 60 minutes, an expressive world all its own. Dazzling.
---
Jonathan Blumhofer is a composer and violist who has been active in the greater Boston area since 2004. His music has received numerous awards and been performed by various ensembles, including the American Composers Orchestra, Kiev Philharmonic, Camerata Chicago, Xanthos Ensemble, and Juventas New Music Group. Since receiving his doctorate from Boston University in 2010, Jon has taught at Clark University, Worcester Polytechnic Institute, and online for the University of Phoenix, in addition to writing music criticism for the Worcester Telegram & Gazette.