By Steve Feeney
Two previously unreleased archival recordings take us on trips into the past well worth taking.
Bill Evans: Behind the Dikes (Elemental Records)
Roy Hargrove/Mulgrew Miller: In Harmony (Resonance Records)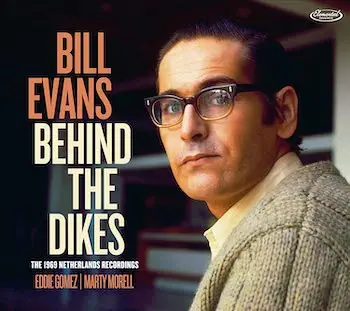 Can there ever be too much "new" work by pianist Bill Evans (1929-1980)? Well, maybe. But I'm not there yet. Not when a previously unreleased two-disc set called Behind the Dikes slides through the mail slot and into my lap.
Subtitled The 1969 Netherlands Recordings, the Elemental Records release includes Eddie Gomez (bass) and Marty Morrell (drums) in live and live-in-the-studio recordings from the year the '60s began to wane and Evans just kept on keeping on.
Filled with Evans's usual repertoire of songs, which he revisited often, this well-recorded and reengineered disc includes an informative booklet with new interviews with Gomez and Morrell. The pair supply plenty of insights into what it was like to play with the master.
The artist's gentle, resourceful genius is once again on full display. Takes of "Emily," "Waltz for Debby," "My Funny Valentine," "Someday My Prince Will Come," and "Nardis" reconfirm, with each subtle new twist, that Evans knew how to deftly reinvigorate songs he had been already performing for years.
A couple of rarities end the disc. Evans is in front of the Metropole Orkest for takes of "Granadas" by Enrique Granados and "Pavane" by Gabriel Fauré. The pianist had recorded these and other "with-Orchestra" works for a 1966 Verve album. Three years later, these revivals still sing, particularly the Fauré composition.
Evans has been quoted as saying "I like structure, but only when it corresponds to what I feel." You can't go into someone else's mind, but my feeling is that he was feeling it in these recordings. The structure is there, with nods to Bud Powell, Thelonious Monk, Maurice Ravel, and a handful of other heavyweight influences. But it's Evans peeking out from between the staves, communing with himself and listeners willing to lean in. A few pieces are given uptempo readings but, remarkably, the performances always retain a distinctive Evans soulfulness.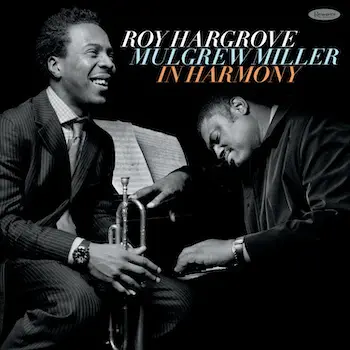 Their lives cut short by health issues, trumpeter Roy Hargrove (1969-2018) and pianist Mulgrew Miller (1955-2013) never quite made it to the top of the jazz pantheon But both remain highly regarded and this release of duets recorded in 2006 and 2007 represents another exciting set from Resonance Records, a label justly celebrated for discovering buried musical treasure. A thick booklet provides context for the recordings as well as reflections on the players from the likes of Sonny Rollins, Jon Batiste, Kenny Barron, and many others.
Both musicians flourished in traditional modern jazz group formats. They rarely were handed the opportunity to show their stuff, at least with a tape machine running, in a pared-down setting. These duets reveal that they each brought a wealth of ideas to what were reportedly largely spontaneous and unrehearsed gigs in New York and Pennsylvania.
Each cut is a gem of expressiveness compressed out of standard material. Miller often shows a boppish flair when he's not surrounding the horn man's improvisations with rich harmonies. Hargrove, displaying his still youthful virtuosity, honors the tradition as he transcends his influences with a surfeit of distinctive touches.
Having seen Hargrove in concert years ago at the DeCordova Museum, I was particularly eager to hear him on his smooth and sweet "second" instrument, the fluegelhorn, which he played with such mastery there. "Never Let Me Go" is an exquisite opportunity to hear the instrument's fulsome tone in the service of one of the great tunes from the songbook. Miller supports Hargrove with a retrofitted early jazz lope as the horn man offers a modernized reconstruction of the classic that is one of the album's high points.
Hargrove's "Blues for Mr. Hill," the only original here, is played as a more or less straight blues that encourages the players to revel in their Gulf state roots (Hargrove from Texas, Miller from Mississippi). Little surprises planted throughout the solos confirm that they knew their way around and through the essential form.
Antonio Carlos Jobim's "Triste" is another treat, as the duo simmer at the center of this steamy bossa nova lament, while inspiring versions of two compositions apiece by Thelonious Monk and Dizzy Gillespie prove that we lost two fine musicians much too soon.
---
Steve Feeney is a Maine native and attended schools in Maine, New Hampshire, and Massachusetts. He has a Master of Arts Degree in American and New England Studies from the University of Southern Maine. He began reviewing music on a freelance basis for the Portland Press Herald/Maine Sunday Telegram in 1995. He was later asked to also review theater and dance. Recently, he has added BroadwayWorld.com as an outlet and is pleased to now contribute to Arts Fuse.