By Gerald Peary

How to avoid going stir-crazy: burrow into the thousands of films available to watch on your computer, most of them free or practically free. Here are five such movies which have only this in common: I really like them, and I think you will also. The link is at the end of the description. Four of the five are free, the fifth will cost you $2.99.
Enjoy!
---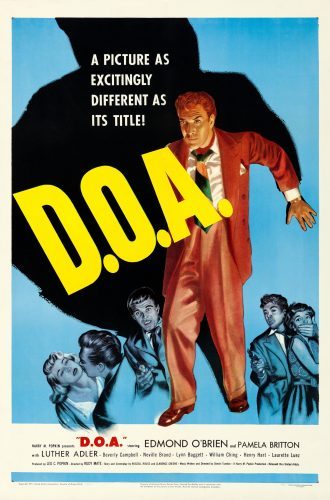 D.O.A. (1950) — In this prime example of B-movie existentialism, pudgy Edmond O'Brien plays a regular Joe who, on a business trip away from his family, gets slipped a fatal poison. Dying, he races after his accidental killers for revenge before the lethal medicine can take effect. D.O.A. is a thriller with a philosophical overlay. Unconsciously, O'Brien has been hankering for an adventure to fracture, and enliven, his goody-goody existence. Has anyone noticed how close D.O.A. is to Wim Wenders's 1977 An American Friend, in which Bruno Ganz, a quiet family man afflicted by a fatal blood disease, comes weirdly to life amid a bloody trail of gangsters?   https://www.youtube.com/watch?v=9Bpld0nGL2I
Marjorie Morningstar (1958) — It was taken from Herman Wouk's novel, which sold an amazing four-and-half million copies. Natalie Wood is so lovely that she is roundly forgiven for not really being the Jewish princess she plays. Marjorie Morgenstern, pushed by her mother toward a bourgeois life, finds her straight-laced destiny threatened when she falls in love with a girl-crazy older playwright (Gene Kelly). They battle for her virginity while he, insecurely, tries to write. The dilemma for Marjorie is a compelling one, as she's caught between middle-class complacency and being the muse of a faltering male artist. Is there a third, better way? Marjorie Morningstar broke ridiculous Hollywood taboos about showing Jewish life by having the Morgensterns celebrating both a bar mitzvah and a Seder. https://www.youtube.com/watch?v=fiz1jV2wguU
Girlfriends (1978) — Claudia Weill's incandescent indie, more than 40 years after, is still fresh and fun. This gentle comedy has big-city female roommates, one Jewish (Melanie Mayron), one WASP (Anita Skinner). Their friendship teeters when the impulsive blonde moves out and marries (Bob Balaban, deliciously dry as an early yuppie). The film stays with the big-haired, slightly chubby Mayron, who aims for respectability as a photographer, but who's a semi-lost soul in a most endearing way. Unlike Natalie Wood above, she's a Jew comfortably playing a Jew. Girlfriends' most transgressive moment is when early-20s Mayron plants a sexual kiss on the mouth of a middle-aged man she suddenly finds attractive: a married rabbi. $2.99 on YouTube. https://www.youtube.com/watch?v=O_t0USrr4W0
End of the Century: The Story of the Ramones (2003) — Directed by Michael Gramaglia and Jim Fields, this is a mesmerizing, troubling documentary about the rise and tumble and demise of the legendary three-chord punkers from Forest Hills, New York. They were all called Ramones, but how could any three people be more different than the off-stage-unrelated Joey, Johnny, and Dee Dee? The key interviews here are with the fascistic control-freak Johnny and the drugged-up, tattoo-covered Dee Dee. Just as he agreed to talk to the camera, the hippyish Joey—the popular Ramone?—went into the hospital for the last time. Soon after being interviewed, Dee Dee OD'd. Johnny Ramone made it just past the release of this film, dying in 2004.  https://vimeo.com/134542333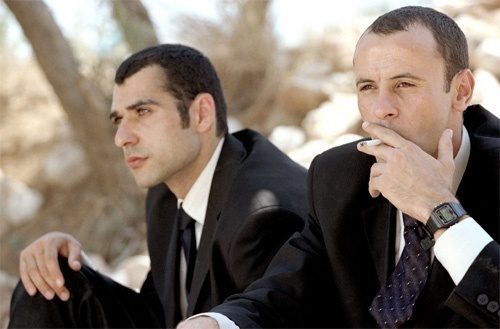 Paradise Now (2005) — A ripped-from-the-headlines narrative of two young Islamic men entering Israel as suicide bombers. It was made with astonishing insider knowledge of such operations by the talented Palestinian director Hany Abu-Assad, who then lived and worked in Amsterdam. Paradise Now utilized an Israeli co-producer, allowing a location shoot in Jerusalem and Tel Aviv where the West Bank duo travel to blow themselves up. Tense stuff! To its credit, the film never tells the audience what to think, though one can deduce that Abu-Assad is sympathetic to the desperation of his Arab protagonists but against suicide and martyrdom as a solution. Interestingly, Warner Brothers Independent Pictures (long nonexistent), the classic division of Warners, bought and distributed this explosive movie. https://www.youtube.com/watch?v=ZcESoSGU1gg
---
Gerald Peary is a Professor Emeritus at Suffolk University, Boston, curator of the Boston University Cinematheque, and the general editor of the "Conversations with Filmmakers" series from the University Press of Mississippi. A critic for the late Boston Phoenix, he is the author of nine books on cinema, writer-director of the documentaries For the Love of Movies: the Story of American Film Criticism and Archie's Betty, and a featured actor in the 2013 independent narrative Computer Chess. His new feature documentary, The Rabbi Goes West, co-directed by Amy Geller, is playing at film festivals around the world.