By Lucas Spiro
Josh Begley, in a mere six minutes, demonstrates how impossible the notion of a border wall is, from an engineering and construction perspective.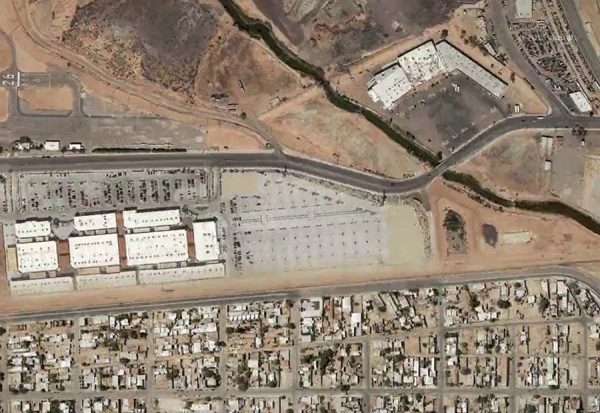 I really like maps. Old maps, new maps, real and fake. As a kid, I used to hold in equal reverence my father's huge atlas, turning the pages in the meticulous, careful way he taught me, and the fictional maps of Middle Earth and Narnia that inspired imaginative adventures. As I grew older, I grew to love how maps project possibilities, especially for politics and history. Naturally, I spend a lot of time on Google Maps: exploring places I've been before, or places I hope to visit. I trace routes through as many parts of the world as I can, getting a rush every time I pluck that little orange avatar and drop him from a million miles up, down into extraordinary sites of historical import, or the desolate crossroads of the small Oklahoma town my grandmother was from.
Still, it's important not to fool ourselves about limits of the reality that a map suggests. Maps are distortions, essentially abstractions that reflect the shifting contours of history. Data artist and Colombia Law School teacher Josh Begley draws on Google Maps as a means to disturb settled assumptions in his beautiful, often haunting and mesmerizing films. He distances us from the concrete to provoke unsettling political questions. One of his films, Best of Luck with the Wall, uses 200,000 satellite images from Google Maps in order to examine the entire Mexico-US border in about six minutes. In those six minutes and 200,000 images, Begley shows us just how ludicrous the state of our politics is.
For a man who lacks any shred of integrity, Trump appears to be sticking to his campaign's dumbest promise: to build a wall along the United States' southern border with Mexico. That commitment, no matter how absurd, is unusual in politics, especially for the Democrats. The wall, no matter how unreal, signifies multiple political realities with real human consequences. Trump and the Democrats have shut down the government over it, building a barrier between thousands of federal employees and their paychecks, and potentially keeping many thousands more from receiving food stamps and other benefits. A wall stands between hundreds of Americans and their next meal so that Chuck and Nancy can flex their political muscle in the world's dumbest pissing contest.The presence of US troops on the southern border, violently attacking migrants, reflects the ideology behind the wall, as does Trump's immigration reforms, which bar people from certain countries from entering the US. Then, of course, there is the border itself; an imaginary line that cuts across very real geography.
Begley, in a mere six minutes, demonstrates how impossible the notion of a border wall is, from an engineering and construction perspective. The film races through all 1,954 miles of the border, a kaleidoscopic, hallucinatory journey where any notion of north, south, east, or west loses its meaning. "Borders begin as fictions," Begley reminds us, but "they are made real by the policies built around them." Accidents of history alter the contours of a nation, which they shape the fate of countless lives. By overwhelming viewers with "data" proving the border's immensity, Begley discards any sense of wall as a metaphor. He succeeds in his illuminating intention to "insist on that geography." Anyone who crosses that border, whether they are among the nearly one million people who cross every day through official points of entry and exit, or those who do so in desperation, fleeing violence and oppression, or in search of hope, cannot afford the luxury of treating the border as a chip in a rigged game of ideological poker.
Begley has made a number of films that push through abstraction in order to reach the human. He works with Laura Poitras's (CITIZENFOUR) Field of Vision production company and has a partnership with The Intercept publication. Concussion Protocol presents every instance of a concussion during an NFL season.  We see the plays runs backwards in time, beginning from the moment of impact. Begley's goal is to imply how things might have gone differently. But time doesn't work like that. This film, along with Officer Involved 2017, share the same strategy — to see everything that had to happen in order for a certain action to take place. Officer Involved 2017 uses Google Maps to locate the scenes of each of the more than 1,000 police killings in 2017. Begley takes three images from each location: two look around the scene of the shooting, and one looks up to the sky, quite possibly the last thing some of the shooting victims saw. The visual result is "a triptych of police brutality." Every frame is taken from one of these sites of violence: many of them, as we know, involve the deaths of young black men, men who, like the mostly black men in Concussion Protocol, are innocent, only to be injured for someone else's profit or pleasure.
Best of Luck with the Wall is not cathartic, it is confrontational; a direct address to you, the viewer, to navigate a map that is a dizzying paradox — it is both fixed and expansive. The film and the border don't so much end as just float off into the Gulf of Mexico, suggesting a boundlessness, a bewildering lack of specificity of place. Begley's series of short films reinforces the vital mission of The Intercept, from its incisive reporting to its production of creative content (including its staging of  Wallace Shawn's radio play Evening at the Talk House). It is the need for a compass, even if it shows us how lost we have become.
---
Lucas Spiro is a writer living outside Boston. He studied Irish literature at Trinity College Dublin and his fiction has appeared in the Watermark. Generally, he despairs. Occasionally, he is joyous.