By Harvey Blume
I'm glad the Harvard Art Museums have re-opened. I'd been looking forward to it. The institutions had been closed too long. One of the allures was a chance to see a Rebecca Horn exhibit. Last I time I'd taken in her work was at a one-woman show at the Guggenheim in New York. Those were kinetic pieces; I remember them as mobile, vaguely insectile, in any case large, twitchy and disturbing. The work displayed at the Harvard Art Museums was earlier — mostly videos of the performance pieces that preceded and led to the kinetic work in which Horn replaces her own body with strange mechanisms.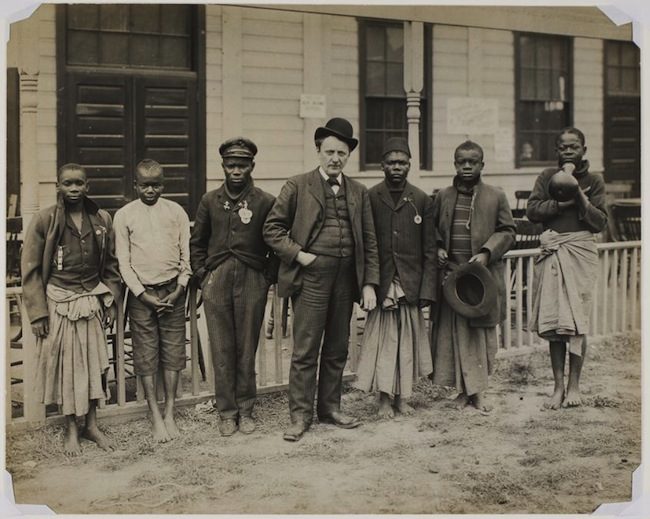 Just past her show I came to another sort of performance art, though it was hardly known as such at the time, and it was not necessarily voluntary. There is a display of photographs from World's Fairs, principally the 1893 Chicago Exposition and the St. Louis Fair of 1904. ("Meet me in St. Louis Louis, meet me at the Fair.")
The captions credit Harvard University for assisting in the new science — the science of anthropology, as it was then called — on view in Chicago and in St. Louis. One photo shows Iggorotes, natives of the Philippines, brought over after the United States put down the Philippine revolt against our troops. Mark Twain called the conduct of American forces in suppressing that revolt for Philippine independence, from both Spain and the United States, nothing less than that of "Christian butchers." Twain was a crusty old satirist at that point. He called it as he saw it.
There are also some African pygmies in that photo. How they came to St. Louis has everything to do with Barnum, with freak shows, with unreconstructed racism — with King Leopold of Belgium's imperial reign over the Congo, which has been termed genocidal. Twain wrote against Leopold, too. And his crusty outburst influenced many, here and abroad, including president Theodore Roosevelt.
For the Harvard Art Museums to ignore this history, this enormously rich context, and to unconditionally praise Harvard's role in the presentation of the new "science" — the performance art — of anthropology, as it was then known, is shameful.
I learned that Harvard professors of anthropology convene their classes in front of these photos. I'd love to know what they say. Do they praise Harvard for its contribution to anthropology, anthropology as racist freak show? Or do they catch up with contemporary scholarship in critiquing it?
You'd never know from what's on display. You'd never know from the captions.