There were times during the performance when Mehmet Ali Sanlikol and the band seemed to fully enter the Ottoman empire.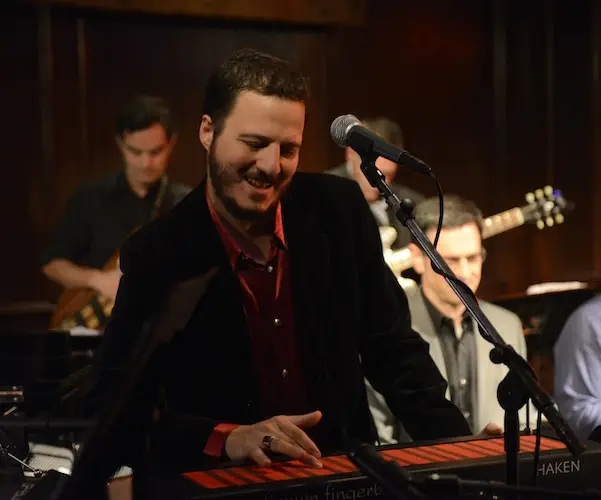 By Jon Garelick
When he came to study at Berklee College of Music in 1993, Turkish Cypriot composer and multi-instrumentalist Mehmet Ali Sanlikol wanted nothing to do with Turkey or Turkish music. "I literally escaped Turkey," he said. It was America and jazz all the way. But by the early 2000s, with a bachelors (Berklee) and masters (New England Conservatory) under his belt, he found himself drawn once again to the sounds of his homeland. Now Sanlikol has released whatsnext, a collection of his pieces written for big band between 1993 and 2000, and on it you can hear the gradual absorption of Turkey into his music. At Scullers on Wednesday night, he and his band — also called whatsnext — played an exciting show that combined all Sanlikol's influences — and also got the audience screaming.
Sanlikol writes detailed, engaging charts. At NEC (where he eventually received a doctorate) he studied with both George Russell and Bob Brookmeyer, and you can hear their influences too — Russell in the stacked rhythmic grooves and modal "gravity," Brookmeyer in his overall structures and voicings, and in his strategic deployment of solos.
At Scullers, Sanlikol introduced the first tune with floating chromatic piano lines and then showed his skill at knitting overlapping ensemble figures. The 11-piece band came together in swelling short phrases punctuated by unison stops that pushed everything forward and then found its groove in a big electric bass vamp from Boston veteran Fernando Huergo. The vamp — sustained by Huergo, guitarist Phil Sargent, percussionist George Lernis, and drummer Bertram Lehmann — grew huge. Mark Zaleski stood for an alto solo, fierce and incisive, but at this point he was just one part of an intoxicating mix.
Sanlikol and whatsnext did this kind of thing several times over the course of the 100-minute set, combining odd-metered folkloric dance grooves and increasingly Middle Eastern tonalities and colors. Sanlikol evoked those flavors with adept voicings, beautifully matching the piercing, nasal sound of his own double-reed wood zurna with the muted trumpet of Jerry Sabatini, or having Zaleski double on clarinet while baritone saxophonist Jared Sims switched to bass clarinet. Sanlikol also played the end-blown ney wood flute.
But, as he explained from the stage, his most liberating discovery has probably been the electronic Continuum Fingerboard, a flat-surfaced synthesizer that allows him to find the characteristic Middle Eastern microtones and muezzin-like quavers unavailable to him on a standard keyboard (pianist Utar Artun filled in on keyboards when Sanlikol doubled). Occasionally, Sanlikol introduced melodies with his own attractive singing — sometimes wordless, sometimes alternating English and Turkish.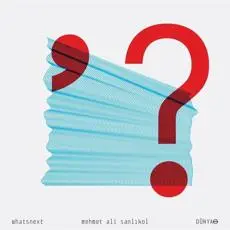 At times the music threatened to lapse into generic synthesizer jazz-funk, but Sanlikol generally steered himself out of these moments with his beguiling mix of musical languages and continually inventive charts. The audience response was not conventional either. On Sanlikol's Sufi-influenced "Dervish Whirl," his extended vocal improvisation (his most ardent and muezzin-like) drew a spontaneous ovation even as he was still coming out of the final chorus, and his work on zurna was as crowd-inciting as anything a star soprano saxophonist can provoke.
Chalk this up to a healthy turnout from Boston's Turkish community, if you will, but the mix of Scullers jazz regulars seemed just as caught up in Sanlikol's whirl. In part, it was those melodies and grooves. But it was also the sound of Sanlikol creating an affecting personal jazz language. In "A Jazzed-Up Devr-i Revan," the tension between Turkish modes and jazz harmonies, the zurna and modern horns, became quite moving, both languages vying simultaneously for the foreground, a dramatic enactment of Sanlikol's weaving together of his different selves.
There were times when the band seemed to fully enter the Ottoman empire. The tune "Palindrome," from the new CD, is about Sanlikol's journey — beginning in jazz, going back to Turkey, and then returning transformed. By midpoint, the piece was conjuring the slow parade march and blare of a Janissary band. It was chilling, and it was somewhat of a disappointment to hear the keening tune evaporate into the jazz language again. For a bit, we were in the land of the sultans, and I wasn't ready to leave.
---
Jon Garelick can be reached at jon.garelick4@gmail.com. Follow him on Twitter @jgarelick or on his blog, jongarelick.com.